My initial exposure to Yahoo groups came about as part of my Artfest experience. There is a Yahoo group for people attending Artfest, which is a valuable source of information when preparing for this 5-day event.
It is rather amazing the many ways attending Artfest has impacted my life journey. Had I not done the Artfest thing 4 years ago, I rather doubt this blog would exist. Back in December, the founder and mastermind behind Artfest, Teesha Moore, posted a description of how to start a blog on her site. With the assist of my 20-something daughter, I slowly got the hang of the process.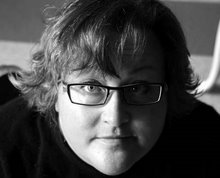 Teesha
http://www.teeshascircus.blogspot.com/

But I digress, this post is supposed to be about text charms.
The yahoo group Charmsters currently has 75 members and hosts a variety of charm related swaps. There are various Round Robin projects and multiple themed swaps. In a these swaps there is a general theme with guidelines set by the hostess. There is a sign up date. After sign ups are completed participants make multiples of their charm(as many as there are participants) and send them to the hostess by a specified date.
The hostess then sorts the charms, so participants get one of each and mails them back.
The most recent swap hosted by Maureen Baranov involved wire, text and resin. They were in a style popularized by the jewelry artist Deyrn Mentock. Deryn's work was featured in the Winter 2009 edition of the magazine Belle Armoire.
http://somethingsublime.typepad.com/
As Maureen said in her instructions:
I don't know how she does it, so that's something we'll have to figure out collectively! That's part of the fun- figuring out HOW to do something.
Never having worked with resin independently, I may have cheated a little, or lets just call it creative problem solving. Rather than mixing a two part resin I used Plaid's Folk Art Papier Glass Finish in clear. It is also available in sepia and antique.
My inspiration was the idea of a compass and south sea travel by boat in an earlier time.
I used brass wire rather than steel as frequently used by Deryn. Brass speaks to me of spy glasses, compasses, sextants and the fittings on sailing ships
I started by shaping my 20 gauge brass wire over a discarded wooden finial. Then I flattened my shaped forms using a small sledge hammer. They needed to be flat in order to encircle the resin properly.
Flattened forms were placed on a large page from a National Geographic Atlas of the World (publishing date 1975) purchased in damaged condition for $1.00 at a Friends of the Library sale. Next the glass finish was poured.
As you can see above, there was a little problem with leakage or over pour, but most of the excess could be cut away with a really sharp little titanium scissors once the liquid hardened.
I placed the forms to maximize coastline.
Cut loose from the map and with a blue bead wired up top and we're almost done.

Last, but not least, is the packaging. There is after all, a certain standard set by previous swaps. Here I used copies of an acquaintances Granddad's pictures of his tour of duty during WWII on a Navy ship in the South Pacific.

On Friday the sorted charms arrived in my mailbox. Here they are slightly unpacked.
Close ups anyone?
Participating artists used a wide variety of texts, foreign languages and sheet music.
The next charm swap I'm in is hosted by Rena Dein has a pink flamingo theme.
Carina